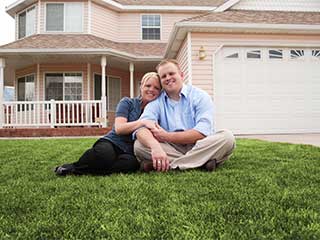 Stuck for creative but affordable things to do this coming Valentine's Day? Why not surprise your partner by transforming your garage door into something they never imagined possible - an outdoor cinema! Just follow our steps to learn what to do
Cleaning And Scrubbing Your Door
You'll be using the exterior of the door as your big screen so it needs to be cleaned properly. Now depending on what your door is made of, you may need to get specialized cleaning products. Aluminum and steel garage doors will naturally need a different product to a wooden door. You may have to get two different products if you have a sectional door with glass panels.
A Coat Or Two Couldn't Hurt
If your door isn't particularly sparkling, painting it will help to give your home an instant facelift. Also, don't think that you're painting it just for one day. Good quality paint will last you for months to come!
Decide What You'll Be Watching
You should get a wide range of movies ready and use magnets to spell out the titles of what you and your partner will be watching that evening. You could even go one step further and use LED- or fairy lights on the door to invoke that Valentine's Day feel.
Now For The Setup
This is actually the easy part. All you need is a clean white sheet that's large enough to cover the whole garage door, or most of it. You could border the sheet with fairy lights to add a soft glow to the evening. You just need to set up the projector and you're good to go!
Why Not Make It A Larger Affair?
If you're not planning a romantic evening just for two, why not invite your single friends and family! Just put a few camp chairs outside and have some snacks at the ready incase they get hungry. Depending on where you live, it might still be quite chilly come February so it might be a good idea to have some blankets ready as well as a pot of delicious hot chocolate to hand out before the movie!
Have A Plan B
If the weather is way too cold to enjoy a movie outside, you'll have to move the party inside. Just drape the sheet on the interior of the door and set up the projector on the opposite wall. Your garage should have plenty of electricity points for electric heaters to keep everyone nice and toasty!
Always Be Careful
When you're stringing up lights or decorations, be sure that this doesn't hinder the operation and functionality of your door, especially if you have an overhead garage door!