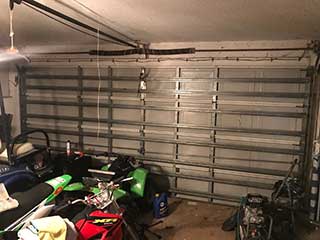 There are a lot of different issues that your garage door can experience over time; from broken springs to a non-responsive opener, and even bent tracks and frayed cables. This type of mechanism is under so much stress that it's no wonder that different parts of it begin to weaken and break down over time. To prevent this, or to at least avoid a lot of problems, regular maintenance is required. Our team offers routine service appointments that will help you make sure your system stays safe and operational for a very long time.
Every Nut and Bolt
We will not neglect to check a single part of your door system, from the smallest fastening screws to the largest panel sections. Our technicians will perform a complete examination of the mechanism and fix any minor issues they discover on the spot. In addition, we will lubricate all the moving metal parts, like the hinges and the rollers, so that the movement of your door will be as smooth, efficient and silent as possible.
Professional Spring Adjustment
Another area we focus on is the tension of the system's hardest working parts, by which we mean – the springs. These components need to be adjusted every so often in order to ensure that the door remains balanced properly. This type of task can be very dangerous when mishandled, as the springs can break accidently and cause serious injuries if they whip around.
Testing The Limits
In order for your door to adequately protect your garage from intruders and thieves, it must close all the way down and leave no gap. To make sure of that, our team will check the opener's force and travel limits, and adjust them if they are not set correctly. In addition, we will also test the motor unit's auto-reverse mechanism as well as its safety sensors, to make sure the door will reverse when it encounters an obstacle blocking its descent.
Don't Hesitate – Schedule Today
Give our team at Garage Door Repair Des Plaines a call and book a service visit with one of our experts. We will make sure your system is in the best shape it can be.
Looking for more? We also offer:

Noisy Doors Silenced

Replace Door Sections

Door Level Alignment

Bottom Seal Rubber