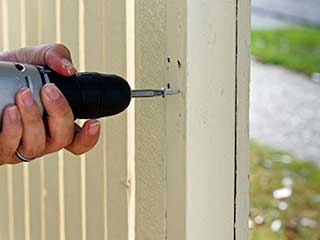 Our local team has been providing gate repair & maintenance services to businesses in the area for more than a decade. Over this period, we've helped many property owners in the area upgrade their property's security arrangements.
Commercial & Private Properties
We do virtually everything when it comes to automatic gates, from installation right up to troubleshooting and replacing broken parts. Whatever type of security system or gate model your property uses, our team has the experience to handle it.
Residential Gate Installations
If you're a homeowner interested in a new gate installation, we can help. Not sure which gate is right for your property? No problem, our professional team can take you through your options and provide their recommendations for best fit. We can then look after the installation process from start to finish. We'll check everything works smoothly and safely before completing the job.
Multicode Programming Services
If you've decided your property needs better security, we can help upgrade your gate's security protocol and reprogram the system as necessary. If you find your gate opener has stopped responding, or you think there might be an underlying programming issue with your existing system, we can also help to get the bottom of this and resolve the problem.
Only Trusted Brands
We source replacement parts from trusted brands only - like Allstar and Linear. Your automatic gate is a long-term investment and an important security feature of your home or business, it isn't worth risking pre-mature breakdowns and malfunctions because you've opted for unknown brands and models.
Industrial And Parking Gates
If your industrial or parking gate is in need of a replacement or repair, we can also help you with this. We'll do our best to ensure the gate is strong enough to withstand an onslaught from determined intruders. We frequently use Carper branded materials based on the high-quality results they deliver.
Whatever your gate related need, call our team today in Des Plaines, Illinois. There will be a technician on the other end of the line waiting to take up your call!
But wait, there's more! We also offer:
Hinge Welding Repair
Program Doorking Intercom
Gate Opener Keypads
Gate Exit Sensor Installation