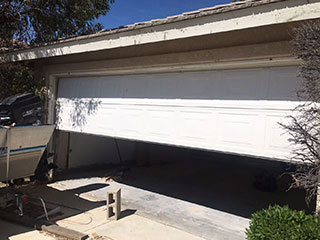 You need your garage door to work. Without it, you wouldn't be able to access your vehicle or properly secure your home. If your door is misbehaving, this could be a sign that it's on its way to a total system shutdown. Don't wait for your door to collapse before calling in our team. We have the experience needed to fix any problem before it escalates further.
Dealing With Worn Springs
The springs are responsible for supporting and counterbalancing the weight of the door without allowing it to fall – they do this by harnessing tension and releasing pressure when required. This constant lifting and lowering can cause them to wear out if they are not regularly maintained. If your door's springs snap, this could cause your door to drop to the floor suddenly, severely damaging the panels and putting anyone in the area at risk. Are your springs on the way out? No problem – we'll assess them to see if they need adjustment, lubrication or whether you'd be better off with a full replacement. We don't recommend you attempt this kind of repair on your own, as springs can be dangerously unpredictable.
Is Your Opener Functioning As It Should?
Think of your opener as a small intelligent little engine – when you trigger your door to open, it kick-starts your door's range of motion. However, openers can develop faults too. Circuit boards may malfunction, safety sensors may become misaligned and motor gears can wear out. If you feel your opener is struggling, speak to one of our experts – we have been working with these complex devices for many years, and understand how and why they cease to function as designed.
Don't Forget The Hardware
Because your garage door is called into action most days, the rollers, tracks and panels are at risk of ordinary wear and tear. Minor faults can grow into major issues over time - if left unattended: a worn roller can cause a collapse, a bent track can make your door stick, and a broken panel can give intruders a way in. Our experts are on hand to repair these and other issues as needed, so they don't result in costly and inconvenient shutdowns!
Call Us Today!
Leaving a problem for too long, however minor, is asking for trouble. Get in touch with our team at Garage Door Repair Des Plaines the moment you notice your door misbehaving. We'll diagnose the malfunction and suggest the best and most appropriate course of treatment.
We also offer:
Roll up Garage Door Maintenance
LiftMaster Chain Drive Lubrication
Opener Sensor Replacement
Residential Garage Door Repair