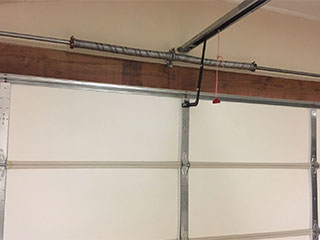 While the opener provides the initial jolt of energy that gets the system moving; your springs are where most of the heavy lifting comes from. When your garage door is closed, the springs are compressed - when it opens, they need to release the pent up energy slowly, evenly, and in a controlled manner. For this reason, the springs need to be both very strong, and very flexible.
The Different Types Available
There are two major families of garage door springs. Torsion springs are mounted across the top of a garage door, and release their energy through the torque motion of coiling and uncoiling. Extension springs typically stretch across the ceiling of the garage, perpendicular to the door, and provide motion by stretching themselves outward. Some garage doors employ a mixture of torsion and extension springs, while others use only one or the other. Both require careful handling, though they have different failure points.
Maintenance And Repair
As door springs are placed under the heaviest mechanical stress in the system, there's a lot that can go wrong with them. If a spring gets twisted or snapped out of alignment, there will be an uneven flow of energy when the door opens and closes, and the faulty spring is likely to get worse and worse until there's a major failure. Rust, warping, and fraying are inevitable with regular use over time which can create weak spots where a spring eventually breaks. To keep any of this from taking you by surprise, your springs should be regularly checked, straightened, and lubricated. Their housing bars and connectors should likewise be kept in good order. If a spring is too badly warped or corroded, you'll want it replaced as soon as possible.
Springs Are Dangerous!
The same mechanical strength that allows the springs to lift your heavy garage door also makes them fairly hazardous if one of them suddenly breaks or snaps loose. Faulty springs can be responsible for damage and injury. If you suspect a problem with your springs you should get them looked at immediately. Don't try to tamper with them yourself unless you have professional training.
We're Here For You
If you're in need or a spring repair, replacement, or just routine preventative maintenance, our team at Garage Door Repair Des Plaines is at your disposal. A phone call is all it takes to have an expert technician sent your way!
Want more? Let us take care of:

Commercial Garage Door Repair

Garage Door Panel Replacement

Garage Door Track Maintenance

New Garage Door Installation